Our University Library is named after Pandit Deendayal Upadhyaya (25 September 1916 – 11 February 1968) as "Pandit Deendayal Upadhyaya Central Library".
Pandit Upadhyaya was an Indian politician. Upadhyaya started the monthly publication Rashtra Dharma, broadly meaning 'National Duty' in the 1940s. Upadhyaya is known for drafting Jan Sangh's official political doctrine, Integral humanism, by including some cultural-nationalism values and selectively appropriating few Gandhian socialist principles such as sarvodaya (progress of all) and swadeshi (self-sufficiency).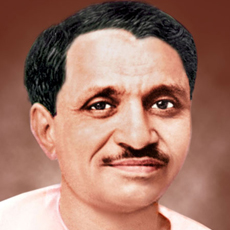 Integral humanism was a set of concepts drafted by Upadhyaya as political program and adopted in 1965 as the official doctrine of the Jan Sangh. Upadhyaya considered that it was of utmost importance for India to develop an indigenous economic model with a human being at center stage. This approach made this concept different from Socialism and Capitalism.
Integral Humanism was adopted as Jan Sangh's political doctrine and its new openness to other opposition forces made it possible for the Hindu nationalist movement to have an alliance in the early 1970s with the prominent Gandhian Sarvodaya movement going on under the leadership of J. P. Narayan. This was considered to be the first major public breakthrough for the Hindu nationalist movement.
For more details, please click here.
Courtesy: Wikipedia